Outdoor Season Starts Tonight
---
---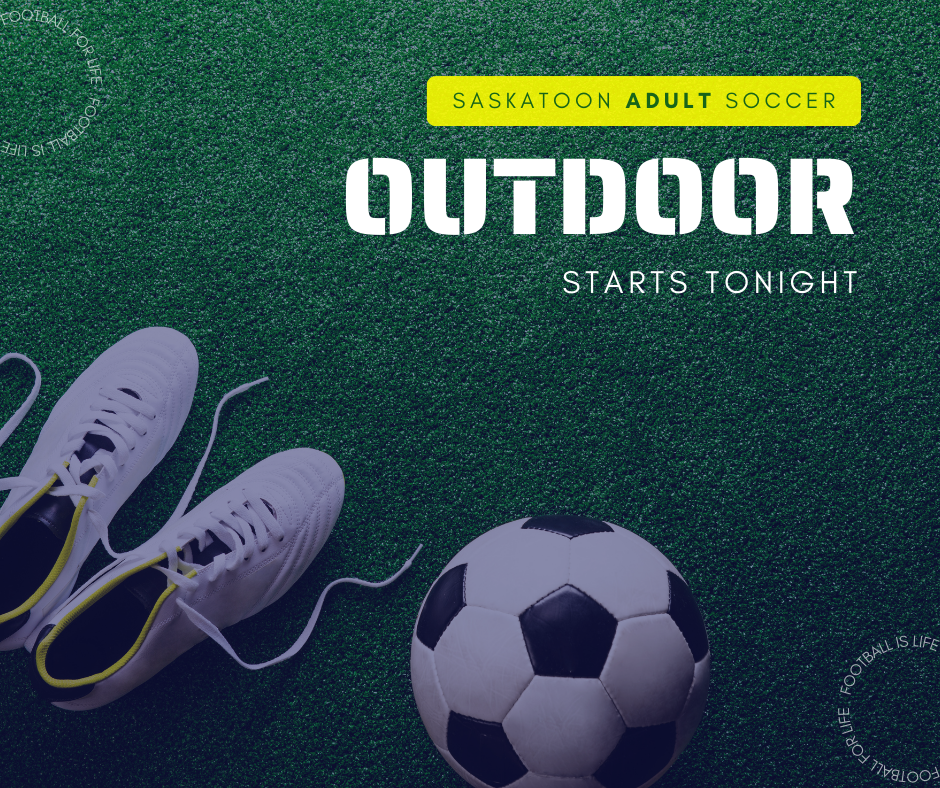 ---
Coed games start tonight! The rest start next week!
We are thrilled to kick off the outdoor season, and, as usual, have reminders.
Please take the time to read so you are aware of the details. Have a great season!
GAME SHEETS
Both HOME AND AWAY need to take game sheets to the grass field games.
Games sheets for the Sports Centre games (Indoor turf, Kinsmen and West field) will be provided by us, and can be picked up at admission desk by the HOME team before the game.
SLIDE TACKLING
Slide tackling is NOT permitted in ANY COED games.
Slide tacking is NOT permitted in ANY GAMES INVOLVING WOMEN'S MASTERS TEAMS.
Discipline may apply. Yellow cards will be given.
OPENING WEEK HOURS
We are open until 7pm on:
Friday, May 5

Monday, May 8

Tuesday May 9

Wednesday May 10

Thursday, May 11
Take advantage to pick up your keys, ask questions, get Player ID cards, etc. Give us a call!
PHOTO ID - MUST BE PRESENT
Players must have the photo ID present and CANNOT use a picture of said ID.
We accept Canadian Government Issued Photo ID in the absence of a Player ID card. We still recommend players get a Player ID card, but we don't want you to miss a game when life happens. Note: We are not responsible for lost or stolen Player ID Cards or Government Issued Photo ID.
UMEA 4/5 & NEWSHAM 3/4 - LIGHTS
We do not control the lights at the City fields.
If they are not on by 8:15pm, please call 306-220-7806 to have a field monitor turn them on. Please call by 8:30pm.
Please notify us any time the lights do not turn on. (Even if the City went to turn them on.)
EQUIPMENT BOX KEYS - REQUIRED
FOR ALL LEAGUES EXCEPT COED: Outdoor field keys can be picked up at the office. A $50/key deposit is required; up to 2 keys. Please bring cash or a cheque post-dated to September 1 and payable to Saskatoon Adult Soccer. (SAS is not sufficient.)
Keys are required to access the flags and nets at the fields and must be picked up by 5pm on Friday, May 26. If the deadline is met, and keys are not picked up, games will be forfeit until someone from the team picks up a key.
GRASS FIELDS - FLAGS & NETS
Nets at Umea 4/5 and Newsham 3/4 do not need to be put up or away. Flags, however, always do.
Nets will also need to be put up AND taken down at Forest Park 4 and Forest Park 5.
Please never lock any gates at the grass fields. Only lock equipment boxes.
SPORTS CENTRE ACCESS - SOUTH DOORS
Please use the SOUTH (turf) doors for the outdoor season.
The north doors (high school) are now closed.
SPORTS CENTRE - CHANGE ROOMS AVAILABLE
Do NOT change on the fields.
Change rooms are available at the Sports Centre.
SPORTS CENTRE - NO SPITTING
Players will be dismissed by show of a RED CARD if they spit on the indoor turf.
They will not be suspended a second game nor will be included in their red card accumulation. However, it is a dismissal. Just don't do it.
REGISTRATION BEFORE PARTICIPATION
EVERYONE on the bench MUST be registered including Team Personnel. They, too, will be required to provide photo ID at the games - just like players do. You CANNOT be on the bench if you are not registered or suspended, and you must be at least 15 years old.
Make sure you are registered on your team PRIOR to playing. Be sure to hit SUBMIT at the bottom of the registration form. If not, you are ineligible and suspensions / overturned games will apply.
You can verify you are registered by reviewing the roster online, receiving the confirmation email or checking your RAMP account under My Registrations.
CANCELLED GAMES ANNOUNCED AT 4PM
We will announce any cancelled games due to Rain/Field Conditions at 4pm. Never earlier.
Please check our website's home page. It will be an article/news at the top of the page.
HAVE FUN
We all enjoy soccer. We all work tomorrow. We all have other responsibilities.
Have fun. Be respectful. Play safe.
FOLLOW US